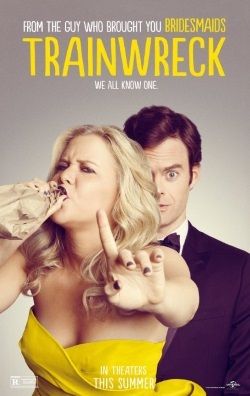 The movie 'Trainwreck' written by and staring comedian Amy Schumer had a good mixture of raunch and pathos one expects when viewing Schumer's comedic exploits. Under the apt direction of Judd Apatow we get a more adult version of his film 'Superbad' that flirts with a dark side not seen much in comedy films. While a bit uneven at times I think the film pulls off a nice balance of bathroom humor and heart.

Amy Schumer plays a magazine writer who fears commitment and growing up. He life starts to unravel when she finally meets a good guy, Aaron, played by Bill Hader.
Much of the film plays like an episode of Schumer's Comedy Central sketch show with several different sketch like scenes where there is a setup then a payoff before moving to the next scene. Sometimes these scenes have nothing to do with the overall arc of the story like when Amy's boss Dianna, played by the great Tilda Swinton, chastises Amy's friend Nikki (Vanessa Bayer) for smiling too often.
Another funny sketch is the movie within the movie titled "The Dog Walker" staring the real Daniel Radcliffe and Marisa Tomei.
A lot of the comedy comes from the location of New York. One of the men "Amy" sleeps with at the beginning of the film is a dude bro stereotype from Staten Island. I'm sure there were many more NYC in-jokes that went over my head.
Some people who I thought did a good job in the film include John Cena, who plays Amy's boyfriend at the start who might be confused about his sexuality, and I thought Colin Quinn, who played Amy's Dad, was good in his few scenes.
There are many celebrity cameos in the film including one that plays a large role in the story of the film. LeBron James just doesn't show up to read lines and collect a check he is actually funny and gets the tone of the film. His scenes with Bill Hader are great.
And it was great to see TV, film, and stage icon Norman Lloyd chewing up his scenes with Colin Quinn and Schumer. At 101 years of age, Lloyd showed off his comedy skills.
The film also gave some excellent quotes to use in the future like when Dianna tells Amy she can sleep with the underage intern or beat him up but she can't do both, that is crossing the line.
Of course the reason I like Judd Apatow movies is because it isn't just an extended 'dick' joke but at the core has heart. The story in 'Trainwreck' showed us a woman who doesn't think she can have a good life because she comes from a broken family. Meeting a good guy who accepts her, warts and all, scares her and she ends up sabotaging the relationship. At her lowest point, it's heartbreaking to watch.
The tone reminded me so much of the classic Bobcat Goldthwait film "Shakes the Clown" (1991). Even though Trainwreck didn't go as dark as Shakes, I could see the pathos and the humor coming from that.
I liked this movie and would recommend it to anyone.
'Trainwreck' Official Red Band Trailer
(Video clip disclaimer applies to all videos posted on Review Geek)