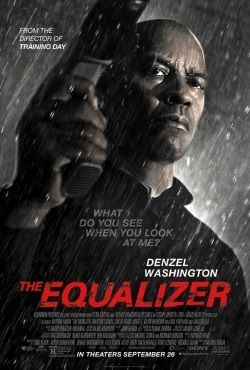 Back in the mid to late 80s, one of my favorite TV shows was The Equalizer. When I found out there was going to be a remake movie, I got nervous. It ended up I liked the film. There was enough bits from the old TV show to satisfy me and I liked the different take the film took on the story. It was pretty violent but there was enough humanity to recommend it.

The 2014 version of The Equalizer stars Denzel Washington as Robert McCall, a man with a mysterious past who works in a home improvement store. He is older than most of the employees so he gets teased about that but he is well liked and respected. McCall even helps coach a co-worker, Ralphie, who wants to move into a position as security guard at the store.
McCall has insomnia so he goes to a local all night diner near his apartment to drink tea and read a book. He strikes up a friendship with one of the diner regulars Teri, played by Chloë Grace Moretz. Teri is an underage prostitute who gets a severe beating from her pimp Slavi. McCall tries to help his friend by buying her freedom but Slavi refuses. It is then we find out that McCall was a former Black Ops agent as he kills Slavi and his four goons.
That act sets off a chain of increasing violent events as McCall battles a Russian Mob enforcer named Teddy, played by Marton Csokas, who tries to kill him.
At the end of the film there is a tip-of-the-hat to the TV show when McCall puts an ad online with the classic words "Got a problem? Odds against you? Call the Equalizer."
Denzel Washington was great as McCall. I wasn't expecting a carbon copy of the TV show and I really liked Washington's take on the character especially the OCD aspects. I would think a government spy would need to be in complete control of his surroundings.
It was a bit on the comedic side that a former spy would be working as a clerk in a home improvement store.
Another change from the TV show is McCall is a widow and had promised his wife he would not be a spy or killer anymore. That's why he retired.
Chloë Grace Moretz continues to amaze me with her talent. She played the abused prostitute with dignity and she acted like someone who wanted to get out of that life if she only had the chance. McCall becomes her chance.
The movie continued the TV show ethics that violence was a last resort. McCall hated to use violence but wouldn't hesitate to use it if needed. It's vigilantism with a heart.
I wouldn't mind if the film led to another TV series or even a sequel or two for Washington on the big screen. He has done well as an action star of late.
The Equalizer (2014)
(Video clip disclaimer applies to all videos posted on Review Geek)