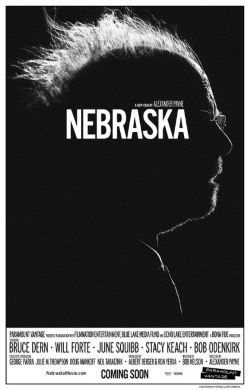 The film Nebraska is at first a road movie about an elderly man thinking he's won a sweepstakes but becomes much more as the layers of relationships are peeled away for the viewer. It's a bittersweet look at what it is like to live in the Midwest of the United States. I liked this film very much.

Directed by Alexander Payne, who wrote and directed Sideways (2009) and The Descendants (2011), gives a story about an aging, booze-addled father, Woody Grant, played by the great Bruce Dern, who travels from Montana to Nebraska with his estranged son, David, played by Will Forte, to claim a million-dollar sweepstakes prize.
The film spends time showing the strain between Woody and David as well as the family dynamics when Woody's wife and David's mother Kate, played by June Squibb lets everyone know how she feels without any filters or tact.
We also get to meet the Grant family when Woody and David stop over in Woody's hometown of Hawthorne. We find out how the people in the small town dislike Woody until they learn he is a millionaire. One old friend even demands a cut of the money to make up for all the times he supported a drunk and unemployed Woody.
Eventually Woody and David get to Lincoln to collect the prize and find out it really was all a marketing scam to sell magazines.
By the end of the film both father and son seem to have a better understanding of each other. You get the feeling that their relationship will keep improving as they put the bad times behind them.
Being from the Midwest I really liked how the family scenes were truthful. All the Grant brothers in the living room in Hawthorne just staring at the TV and not talking to each other reminded me of some family shindigs I attended when I was a kid.
Kate steals many scenes she is in due to her foul mouth and foul opinion on practically everything. She gets most of the best lines:
Kate Grant: [looking at graves] There's Woody's little sister, Rose. She was only nineteen when she was killed in a car wreck near Wausa. What a whore!

David Grant: Mom!

Kate Grant: Nah, I liked Rose, but my God, she was a slut.

David Grant: C'mon…

Kate Grant: I'm just telling you the truth!

David Grant: Where's your family?

Kate Grant: Oh, they're over in the Catholic cemetery. Catholics wouldn't be caught dead around all these damn Lutherans.

[Approaches another tombstone]

Kate Grant: Here's Delmer, Woody's cousin, he was a drunk. One time we were wrestling and he felt me up. Grabbed a handful of boob and Woody was right there and didn't have a clue, did ya Woody?
Payne, Dern and Squibb were nominated, as was the film, for an Oscar.
Although the film starts out gloomy and dreary, it ends on a high note and I really enjoyed it. Being shot in Black and White was a nice touch.
Check it out if you can.
Nebraska (2013) Trailer
(Video clip disclaimer applies to all videos posted on Review Geek)