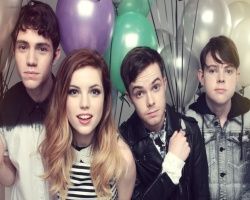 Last month I heard this single from the band Echosmith and it reminded me of New Wave from back in the 1980s. The whole album is good for the ears.

The band is composed of four siblings: Graham, Sydney, Noah, and Jamie Sierota.
For such a young band they sound so polished.
Check out the official Echosmith website.
Echosmith – Cool Kids
(Video clip disclaimer applies to all videos posted on Review Geek)