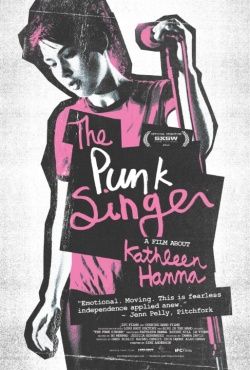 The other night I watched the 2013 documentary 'The Punk Singer' about the life and times of activist, musician, and cultural icon Kathleen Hanna, lead singer of bands such as Bikini Kill, Le Tigre, and The Julie Ruin. The film blew me away and gave me a huge appreciation of Hanna's music and point of view. I know I'm not the usual demographic for Hanna's music but her music and lyrics just seem so honest and real. She is a heroine of the 1st degree. Check out the film on Netflix.

The film is on the short side – only 81 minutes – but it hits the high and low lights of Hanna's career from her spoken-word performances, working with Bikini Kill, Le Tigre, and her current activities including forming her newest band The Julie Ruin. The film also gets into her personal life, her personal views, and her struggles being labeled a leader in the third-wave feminist movement. The film also solves the mystery as to why she "retired" from performing in 2005.
I was in college around the same time she was and while the worst thing I worried about back then was what kind of pizza I was going to order one night, Hanna was opening an art gallery, after her college censored her work, wrote and produced fanzines (pre-internet newsletters that promoted things like the local punk music scene), and took part in feminist activism.
Punk music is a male dominated genre and Hanna and Bikini Kill worked hard to create a safe space for women to listen and enjoy the music. Her catchphrase at the time was "Girls down front" which meant the band would demand that women be allowed up to the front of the stage before they played. Hanna also played a part in forming the Riot grrrl movement in the 1990s.
Two other things I learned from the film was Hanna's important part in Nirvana's biggest hit song "Smells Like Teen Spirit" and that she married Adam "Ad-Rock" Horovitz of the Beastie Boys. That is some major music connection.
I first heard Hanna in Le Tigre and dug that music then I checked out her back catalog and have loved all of it. I was so happy to see her return to performing with her band The Julie Ruin.
The main take away from "The Punk Singer" is Hanna lived her principles, didn't take shit from anyone, spoke her mind, and made a difference for a legion of musicians both men and women.
She is someone I could hang out with. Kathleen Hanna should be everyone's heroine. She's one of mine.
Official Site: The Punk Singer
The Punk Singer (2013)
(Video clip disclaimer applies to all videos posted on Review Geek)