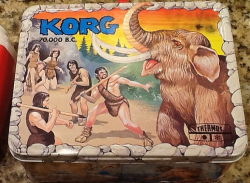 The other night, while talking to my mom, we got on the topic of school supplies. I remembered having to get boxes of tissues, a package of clay, and glue for example. My best memories were those years I got a new lunch box. Back in the 1970's the lunch box was metal with a plastic thermos. The boxes were based on TV shows, cultural icons, or cartoon characters. I couldn't remember the name of the TV show of one of my favorite lunch boxes but a quick search of some TV listings from the 1970's reminded me of it. So here are my three favorite lunch boxes when I was a kid.


Korg: 70,000 B.C.
Korg: 70,000 B.C. was a live action drama show following a family of Neanderthals in prehistoric Europe. I loved the show enough to get the lunch box. Unfortunately it lasted only one season on ABC.
Korg: 70,000 BC (intro)
(Video clip disclaimer applies to all videos posted on Review Geek)
Evel Knievel was the man kids my age want to be. We would setup dangerous ramps and jump stuff with our bicycles. I also had the action figure and stunt cycle toy.
70's Evel Knievel Toy Commercial IDEAL
(Video clip disclaimer applies to all videos posted on Review Geek)
The Six Million Dollar Man was my show in the 1970's. I never missed an episode. I actually wished I had bionics like Steve Austin so I could run 60 MPH. I also had the action figure, the Oscar Goldman action figure, Oscar's office play set, and Steve's rocket that turned into a medical bed to fix his bionics.
I lost this lunch box in a horrific way. I was at the bus stop one morning. Our usual routine was to line our lunch boxes or book bags in the order we arrived at the stop as that would be the order we got on the bus. The stop was in the parking lot of a local pizza place that fronted a busy US highway. One day while our stuff was lined up a pickup truck pulled into the lot, ran over all our stuff, before turning around and going the other way on the highway. Luckily my bologna sandwich survived but the box didn't.
The Six Million Dollar Man Intro
(Video clip disclaimer applies to all videos posted on Review Geek)