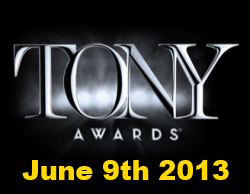 Sunday June 9th on CBS will be the 67th Tony Awards. The Tonys recognize the best of Broadway for the season. I like the award show because you get a taste of the plays and musicals playing that year. I also like that Neil Patrick Harris will be hosting for the fourth time. He always brings an energy to the telecast. In honor of the Tony Awards I decided to post a video from the 2000 awards. It is the third part of the musical 'Contact' also subtitled 'Contact' to the tune 'Simply Irresistible' by Robert Palmer.

Boyd Gaines, Jason Antoon and Deborah Yates lead the original Broadway company in the clip. I could watch Yates dance all day.
Contact – Simply Irresistible
(Video clip disclaimer applies to all videos posted on Review Geek)
*Side note* Contact won best musical in 2000 even though they used pre-recorded music and no one sang. The managers of the Tony Awards created a separate category to cover shows like 'Contact' the next year but retired it in 2009.