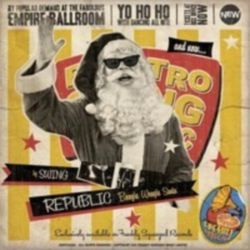 I'm a geezer. I've loved Big Band and Swing music for a long time even before the swing resurgence in the 1990's. I also like house music. I was wondering if the two could be merged and they can. It's called Electro Swing which fuses swing styles with house production techniques. I really like it and you should too.

The tune that introduced me to Electro Swing was the tune "Chambermaid Swing" by Parov Stelar that was used in a Bacardi commercial. But as I was perusing some tunes on Sound Cloud I came across a neat song by Swing Republic called "Boogie Woogie Santa" which being the holiday season is appropriate.
Swing Republic – Boogie Woogie Santa
This tune is one of my new holiday classic tunes.
The above tune is a limited time thing so if it is no longer available to listen to check out this other Swing Republic tune
Swing Republic – Drum boogie (feat Gene Krupa)