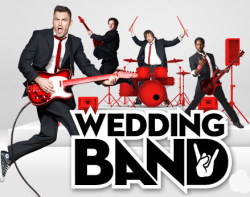 TBS premiered a news series Saturday night titled "Wedding Band" starring Brian Austin Greene and Peter Cambor. It is billed as a comedy drama but it isn't jokey jokey but more in the same vein as the previous TBS show "The Boys". The pilot didn't bowl me over but it wasn't terrible. It actually has a great cast but I'm concerned about the show being an hour for each episode and the concept doesn't seem like it could last more than a season if that.

The show is just what the title suggests. Four men from different backgrounds are in a wedding band. Plots revolve around their lives inside and outside the band.
Brian Austin Green plays the lead singer Tommy, the bachelor. Peter Cambor plays Eddie, the lead guitar and married father of two. Rounding out the band is Derek Miller as Barry the drummer, a Keith Moon crazy type, and Harold Perrineau as Stevie, who plays bass and is a horn dog.
Of course you can't have a wedding band without playing every cheesy classic rock and country song known to man kind so I would hate to see the show's licensing budget. That's why I have concerns about the long term viability of the main concept of the show. I don't see them playing songs much in future episodes – maybe one or two a show? I'm sure I'm over thinking it but that's what I do… LOL…
Also for a band that plays cover tunes at parties how are they not doing their own songs since they sound so polished. I know one or two party bands and they always look to slip in their own songs when they can. It is good that the actors actually play their instruments (according to the shows website). I also liked the name of the band "Mother of the Bride".
I'm sure some people might say the show is a rip off of the movie "The Wedding Singer" but while the theme might be the same this new show is nothing like the movie. For one thing "Wedding Band" is set in present day.
Besides the main cast the supporting players are great. One of my favorite actors, Melora Hardin plays a wedding planner who hires the band and has a fling with Stevie. Jenny Wade is back on my TV playing the love interest for Tommy.
I'm also stoked that Peter Cambor is back on a series. I thought NCIS LA made a mistake dumping his character after season 2.
I plan on catching more episodes to see how it evolves. You should at least give it a taste.
Here is a behind the scenes clip: