The 2012-2013 TV season starts in full in September so I wanted to post my thoughts on what new shows interest me. Just remember these thoughts are based on the show information and available video like sneak peaks and trailers. Although I find these shows interesting now, once the season begins and I see the shows in season I may change my mind.
NBC, like ABC, is thin in shows that I'm interested in but it does have one of the new shows at the top of my list for this TV season.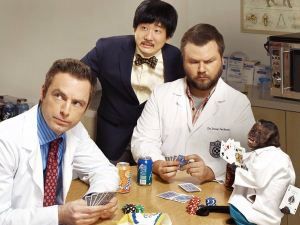 "Animal Practice" is a new comedy centering on Dr. George Coleman (Justin Kirk, "Weeds," "Angels in America"), a top veterinarian with an impressive list of famous animal patients at the Crane Animal Hospital – a bustling New York City veterinary practice where it often seems as if the patients are running the place. Despite his unorthodox style, George has an undeniable gift with animals of all kinds – except the human kind. Much to his chagrin, George recently learned that his ex-girlfriend, Dorothy Crane (JoAnna Garcia Swisher, "Better with You"), has inherited the family business and is now George's boss. Whip-smart and ambitious, Dorothy shakes up the hospital as she brings order to the chaos and butts heads with George's animal-friendly administration.
It looks like "Animal Practice" is going to be a straight up goofy comedy which is good. I like not to have to think too much for a sitcom. This will be all about the jokes and funny situations. Crystal the monkey riding a toy ambulance is just plain funny.
I like the cast which includes Justin Kirk, JoAnna Garcia Swisher, Tyler Labine, Bobby Lee, and Kym Whitley.
Here's a preview:
From renowned, Emmy Award-winning executive producer Dick Wolf ("Law & Order" brand) and creators Derek Haas and Michael Brandt, the writing team behind "3:10 to Yuma," comes the high-octane drama "Chicago Fire," – an edge-of-your-seat view into the lives of everyday heroes committed to one of America's noblest professions. For the firefighters, rescue squad and paramedics of Chicago Firehouse 51, no occupation is more stressful or dangerous, yet so rewarding and exhilarating. These courageous men and women are among the elite who forge headfirst into danger when everyone else is running the other way and whose actions make the difference between life and death.
Sure it looks like Backdraft the series or a reboot of "Third Watch" but Dick Wolf is behind this new show so I expect the stories to be top notch. Of course if they have a "main character in jeopardy" plot each week it might get old fast.
I do like the cast which includes Jesse Spencer, Taylor Kinney, Lauren German, and Monica Raymund.
Here's a preview: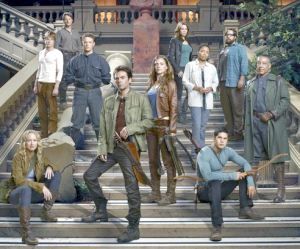 What would you do without it all? In this epic adventure from J.J. Abrams' Bad Robot Productions and "Supernatural's" Eric Kripke, a family struggles to reunite in an American landscape where every single piece of technology – computers, planes, cars, phones, even lights – has mysteriously blacked out forever. A drama with sweeping scope and intimate focus, "Revolution" is also about family – both the family you're born into and the family you choose. This is a swashbuckling journey of hope and rebirth seen through the eyes of one strong-willed young woman, Charlie Matheson (Tracy Spiridakos, "Being Human"), and her brother Danny (Graham Rogers, "Memphis Beat"). When Danny is kidnapped by militia leaders for a darker purpose, Charlie must reconnect with her estranged uncle Miles (Billy Burke, "The Twilight Saga"), a former U.S. Marine living a reclusive life. Together, with a rogue band of survivors, they set out to rescue Danny, overthrow the militia and ultimately re-establish the United States of America. All the while, they explore the enduring mystery of why the power failed, and if – or how – it will ever return.
One new show that is at the top of my interest list this season is "Revolution". The premise is very interesting – what happens 15 years after some event makes electricity disappear. After going through the remnants of Hurricane Ike in 2008 and the derecho that blew through in June, I have first hand knowledge of how much we depend on a stable power supply for our level of living. The production team includes J.J. Abrams (Star Trek, Alias) and Eric Kripke, who created the CW show "Supernatural".
Of course the downside is Abrams took "Alias" which had a great start and huge secret and ran it into the ground with stupidity at the end. I hope that doesn't happen but this is another high concept show that I think would make a better movie or short term series like they do on TNT with "Falling Skies".
The show also has a good cast at the start with Billy Burke, Giancarlo Esposito, and Elizabeth Mitchell.
---
*Editors note*
These preview posts are subject to the
Review Geek Video Clip Disclaimer