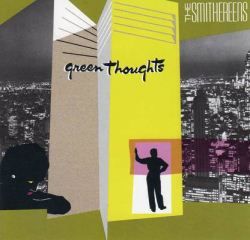 The best thing I remember from college is getting to hear some great music. One of my favorite albums from that period is "Green Thoughts" from The Smithereens. I came across the cassette at a campus area record store and since I liked their first album "Especially for You" buying "Green Thoughts" was a no brainer. Even after all these years it is still one of my favorites.

I like The Smithereens because they know how to rock – noisy guitars and all – and I like lead singer Pat DiNizio's voice. His tone and pitch is similar to mine so when I sing along I sound in tune.
The singles that were released off "Green Thoughts" to the music channels and radio I loved – like "Only a Memory" "House We Used to Live In" but the album has some great down tempo songs like "Especially for You" and "Drown in My Own Tears".
The album has a nice balance and sounds very polished. Also I thought it was better than their first album overall which shouldn't happen. Usually a 2nd album isn't better than the first but for The Smithereens it was better than the first. This was also one of the first albums I bought on CD back in the day when I finally had a CD player.
My favorite song off "Green Thoughts" that triggers more memories of my college years is Track 10 – "If the Sun Doesn't Shine". When I was listening to the album all the way through to write this post and "If the Sun Doesn't Shine" came on I remembered all the lyrics as I sang along and even remembered the guitar break in the middle of the song.
The Smithereens — If the Sun Doesn't Shine (1988)