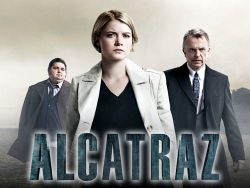 I have to admit that I tried out watching "Alcatraz" because one of the leads is Sarah Jones, who played the murder victim in one of my favorite episodes of "Cold Case". Of course I liked that Sam Neill is also in the show and he doesn't do a lot of TV roles. "Alcatraz" is an interesting take on the style of "Lost" (a big mystery) and "X-Files" (might be a huge conspiracy). So far I like it and if you liked "Lost" and "X-Files" then you will like "Alcatraz".

The basic premise is stated in the intro of each episode:
On March 21, 1963, Alcatraz officially closed. All the prisoners were transferred off the island. Only that's not what happened. Not at all.
Over 300 inmates and some guards disappeared and now in 2012 they are all showing up back in San Francisco. Emerson Hauser played by Sam Neill is a Federal agent that heads a task force tracking down and re-arresting the returning convicts. He works with SFPD detective Rebecca Madsen played by Sarah Jones and double PhD holder Dr. Diego "Doc" Soto played by Jorge Garcia who also happens to own and operate a comic book store.
I like the depth of the main characters – each has some connection to the prison. Hauser was a guard who discovered the disappearance in 1963. Madsen's grandfather is one of the returning inmates and Soto is the expert on the prisoners having written four books on Alcatraz.
Two other interesting supporting characters are Lucy Banerjee, Agent Hauser's technician/assistant, played by Parminder Nagra and Dr. Beauregard played by Leon Rippy both of whom also show up in the 1960's scenes. I'm sure it is part of the overall mystery but I can't wait to find out how they are involved in the whole affair.
So far in the four episodes broadcast, a little has been given out about the overall mystery although we don't know the answers to the major questions (ie. why did these inmates and guards disappear, why have they no aged, and who or what is doing it) but like I've written before these kind of high concept long term mysteries are a long shot for a weekly show. The show runners have to balance a weekly plot and service the overall arc in a logical way. You also don't want to lock out casual viewers who might see every episode.
It looks like it is going to be an inmate or guard a week type stories and I'm not sure if that is enough to keep the show going. At least the creators made plans by having the number of missing people be at least 300 so the number of stories is at least that number however how many types can there be before the plots get stale. How many kidnappers can there be etc….
The one thing that bothers me a tad is the constant shifting between the 1960's and present day. I know why they do it so Dr. Soto isn't doing a five minute exposition scene but I would prefer the 1960's scenes in the beginning just after the cold open and titles. It isn't confusing but it does tend to chop up story lines in the middle of them to switch to the other time. It can be jarring..
Other than that the show isn't bad. The leads are some of the best drawn leads I've seen in a long time, and the time travel element gives it a "Lost"/"X-Files" feel.
I recommend you give it a shot.
---