Big fan of the British import "Downton Abbey" currently showing the 2nd season here in the US on PBS. I was pleased to see Elizabeth McGovern as one of the leads as Cora Crawley, Countess of Grantham. I have been a big fan of McGovern for decades and the one film of her's that is my favorite is "Racing with the Moon" released in 1984. She played the lead Caddie Winger who catches the male lead Sean Penn's eye. Every time I see McGovern on screen I end up watching "Racing with the Moon" again. Anyone who enjoys her Cora on Downton Abbey should see all her previous films including this one.

Sean Penn and Nicolas Cage are best buddies in a coastal town in California in 1943. Penn, as Hopper, and Cage as Nicky are going to enter the service. They are just biding their time as pin boys at the local bowling alley when Hopper spots McGovern's, Caddie taking tickets at the movie theater. He spends most of the first part of the film trying to woo her, falsely believing she is wealthy. His main motivation is he wants to have a picture of the "girl back home" to comfort him while away at war.
The romance seems honest and not contrived. Hopper tries several times to get together with Caddie and she refuses. Then once they become a couple, Nicky gets into trouble and it may tear Hopper and Caddie apart and might ruin Hopper and Nicky's friendship but I will say it isn't the usual love triangle.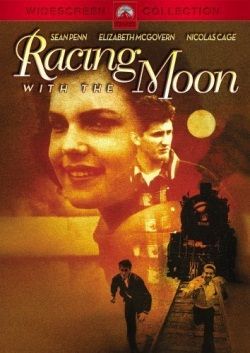 The film was directed by Richard Benjamin. who is more known for comedy. but he treats this story with the bittersweet tone needed. It isn't the usual teen sex movies that were common in the 1980's. The film is rated PG but has adult moments. Dave Grusin does the music with a lot of Big Band elements as would be expect of the time period.
Sean Penn is his usual greatness. His face and body are so expressive and without many words you understand Hopper. His early work like this film is some of his best – not that he has slacked off like Cage but these 1980's films I remember fondly.
In this film, you will forget all the crappy "just-for-the-money" roles Nick Cage has been in recently ("The Wicker Man" anyone??) and see how good he can be if he didn't have to go paycheck to paycheck.
Elizabeth McGovern just shines on the screen and this is why I have been a fan for years. Other good flicks she's been in that I recommend is "Ordinary People" (1980), "Ragtime" (1981), "Once Upon a Time in America" (1984), "The Handmaid's Tale" (1990) and of course catch her on "Downton Abbey" on PBS.
Trivia note: She did a cameo in the film "Kick-Ass" (2010) as the mother of the main character Dave Lizewski. She dies of a brain aneurysm while eating breakfast in like the first 15 minutes of the film. Nicolas Cage is also a lead in that movie but he didn't have a scene with McGovern.
Here is a trailer with terrible audio but my DVD didn't have a trailer on it: