On Tuesday morning (01/26), the nominees for the 2011 Oscar Awards were announced. I have my favorites and if I were voting the results would be different than what we will see when the awards are presented on February 26th. See my picks below.

First thing to know is the Oscars are voted on my the members of the Academy of Motion Pictures Arts and Sciences. It isn't a public award like the People's Choice Awards. So that means it's actually a popularity contest but only for a small number of people (only about 6,000 members). The films that qualify each year must have played in Los Angeles County, California. That means it is possible and has happened that winning films didn't come to a theater near you.
Here are the nominees and my picks if I could vote. I also note the people or films who should win and who I think will win:
Best Actress in a Supporting Role
Jessica Chastain
Melissa McCarthy – my pick
Berenice Bejo
Janet McTeer
Octavia Spencer – will win
This category is usually where they award a first time nominee or a minority to deflect the diversity issue with the awards. Since all the nominees except McTeer are first timers then the odds on favorites are either McCarthy or Spencer. My heart goes to McCarthy but I would not be sad if any of these fine actresses won.
Best Actor in a Supporting Role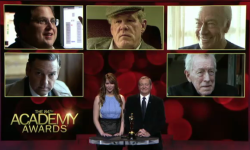 Kenneth Branagh
Jonah Hill
Nick Nolte
Christopher Plummer – my pick
Max Von Sydow
The actor category works the same way as the actress category. This award is used for first time nominees but another tend is if the nominee is over 50. This year Plummer and Von Sydow are the oldest in the category but since Plummer is a first timer and played a gay man in his film he is the favorite and my pick for the award.
Best Actress in a Leading Role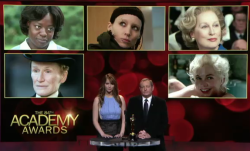 Glenn Close – my pick
Viola Davis – should win
Rooney Mara
Meryl Streep – will win
Michelle Williams – my pick
This category is a tough one. All the nominees are excellent. I would be happy if any of them win. I will note that Close worked the hardest by playing a woman playing a man in her film. She is just so good that if you didn't know it was her you might not be able to guess.
Best Actor in a Leading Role
Demian Bichir
George Clooney – will win
Jean Dujardin – should win
Gary Oldman – my pick
Brad Pitt
This one is a toss up since all the nominees are good picks. I think Clooney will win because his film has buzz but Oldman is a first timer but don't be surprised if Bichir, Dujardin, or Pitt win.
Best Director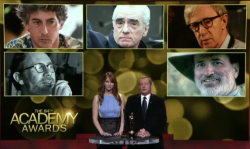 Michel Hazanavicius
Alexander Payne – should win
Martin Scorsese
Woody Allen
Terrence Malick – will win – my pick
Hollywood LOVES Malick even though he is hard to work with. But I wouldn't be surprised to see Hazanavicius win.
Best Animated Feature Film
"A Cat in Paris"
"Chico & Rita"
"Kung Fu Panda 2"
"Puss in Boots"
"Rango" – will win – my pick
Kung Fu Panda 2? Really. I guess the Academy needed to pad out the category.
Best Picture
"War Horse" – my pick
"The Artist" – should win
"Moneyball"
"The Descendants"
"The Tree of Life"
"Midnight in Paris"
"The Help"
"Hugo" – will win
"Extremely Loud & Incredibly Close"
All these films would be great winners.
Keep in mind that interns and assistants of some members fill out the ballots. The Academy also tends to pick winners for the "art" and not the box office. Kind of like public polls that say 90% of people claim to attend church but the actual attendance numbers don't match. The people tell the pollsters what they think they should say to make themselves look good. In the case of the Academy, people vote for films that make the voter look artsy or at least their ideal of what art is. "The Dark Knight" was pretty arty but was not even nominated for Best Picture even though it had several technical nominations and a supporting actor win for Heath Ledger.
So get the popcorn and prepare to laugh and cry as the awards are given out on February 26th.