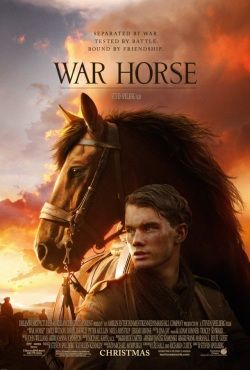 There has been a trend in war films of late for extreme realism. For example in Steven Spielberg's "Saving Private Ryan" the film opens with a long scene of fighting during the D-Day landings with all the blood and guts on full display. In Spielberg's new film "War Horse" he seems to go back the other way, back to the old days when war movies were sweeping epics and the main characters barely were scratched in savage fighting. As an adult I enjoy the more realistic war films but I can appreciate "War Horse" for still showing the carnage of war without splattering my kids face with blood and guts.

Like any good children's story we spend quite a bit of time getting to know the star of the movie – "Joey" the horse and his human trainer Albert. We watch them bond and experience the trials and tribulations of farm life before World War I. Also like children's stories with animals as the main character, Joey is given anthropomorphic actions that show up at different times to give the horse more character. This anthropomorphism works without being obvious like adding Jar Jar Binks to the Star Wars mythology for the toy sales.
The war scenes were as realistic as possible without showing actual deaths or gallons of blood spraying all over the place. I would be concerned if this wasn't a children's story but it is a decent introduction into what war is really about. When people are killed the scene is either a long shot with not much detail, something passes in front of the camera at the exact moment of the shot, or the death is not shown at all but the scene plays out that lets you know a death happened.
Most of the human cast consisted of little known or unknown British actors which works since the story is strictly British. They also used French actors for the French parts and German for the German parts.
David Kross, Emily Watson, and Benedict Cumberbatch were the only people I had heard of before and I really liked Watson's take on Albert's mother Rose. The rest of the cast did a good job.
The rest of the elements were well done. The war scenes were technically well done and the locations in the film looked beautiful.
This is a great family film where you don't have to worry too much about what your children will see.