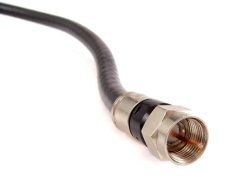 Like clock work, the end of the year brings us some retransmission wars in cable television. The FCC allows local broadcasters to charge a fee to cable companies that retransmit its signal to subscribers. The local stations try to get a large fee while the cable providers try to pay as little as possible. When the sides can't agree then either the channel is pulled from the cable system or some agreement is reached at the last minute. These retransmission wars are stupid and show how antiquated local and cable television is now.

Cable television was developed to improve the signal of television stations in heavy urban areas, like New York City, or in rural areas where geography prevented a strong signal from being received. Basically these cable providers would retransmit the local television signal and charge people to get it in their homes. That money didn't go to the local station.
As cable expanded their programing and some of the providers owned the channels they provided on their systems, there was worry that local stations would be bumped off cable. Some independent and low power stations were already kept off cable systems.
A law was passed that required cable providers to carry local stations, however instead of "must-carry" a local station can enter into a retransmission consent agreement. In such an agreement the local station can charge the cable provider a fee for retransmitting their signal much like cable channels do (ex. TNT, CNN).
The local station has the advantage – either the cable system pays or they have to block the station from the system.
Since the local station can either use "must-carry" or charge a fee I can understand why they charge the fee.
I actually see both sides of the issue. Why shouldn't the local station receive a fee from the cable provider since the provider is charging the subscriber money to see the signal.
On the other hand the signal is using public airways and someone shouldn't be penalized because they use a cable provider as their antenna.
I think the local station should get a nominal fee but there should be a limit on that fee and it shouldn't be more than what the provider pays for the lowest rated cable channel.
The only real value of a local station, in this Internet era, is local news and weather. All the other product, including the broadcast network shows like "The Big Bang Theory" can be viewed online.
The local stations are full of themselves if they think they should use the retransmission consent agreement as a cash cow.
When these wars happen, the subscribers lose because they then have to use other means to view the blocked channel.