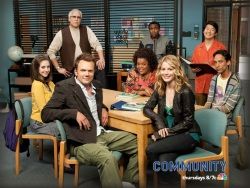 Two shows I like on NBC are being affected by mid-season schedule changes. "Community" that was on the killer time slot of Thursday at 8 PM has been put on hiatus while new show "Prime Suspect" that was on at 10 PM on Thursdays has been canceled and will only have its initial 13 episode order completed. These changes are being done due to ratings. It still sucks because these were shows I liked.

Another "Community" fan, critic Alan Sepinwall wrote exactly how I feel about the hiatus:
But "Community" has essentially been on a kamikaze mission for a long time now, going up against "The Big Bang Theory" and one of "American Idol" or "The X Factor" for a while now. It aired after "The Office" briefly at the start of its first season and has had to go it alone ever since. "Whitney," which gets to stay on the schedule – albeit swapping timeslots with "Up All Night" – has done better entirely because of that "Office" lead-in, and has been bleeding viewers almost as quickly as it's been arousing critical pans. "Community" is a mess ratings-wise, but it's one of NBC's few shows that still draws largely unabashed love from critics (and from its shrinking but passionate group of fans). Pulling it off the schedule temporarily given the ratings is understandable; pulling it off the schedule while leaving "Whitney" on is not. Either show is going to do the same pathetic numbers on Wednesdays at 8 – away from its "Office" cocoon, "Whitney" could easily do worse than "Community" would – and one move at least buys continued goodwill from the press and viewers, whereas there's no one outside the immediate families of Whitney Cummings and Chris D'Elia who will be happy that show continues to air, week after week.

NBC's mid-season schedule benches 'Community,' kills 'Prime Suspect,' brings back '30 Rock'
Although to be fair, while I like "Community", it is the one show on Thursday I DVR for later and I watch "Big Bang Theory" live. I have several episodes including the last couple of weeks I haven't watched yet. I like the show but it just never seemed to be the edgy show I fell in love with in Season 1.
I did the same thing to "Chuck" because I got sick of the teen angst story lines that started in season 3. "Chuck" is much better now that Chuck and Sarah are finally married… but I digress.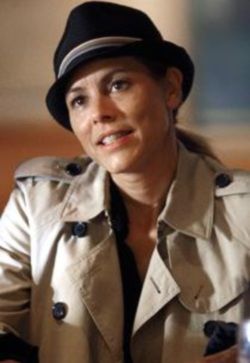 "Prime Suspect" with Maria Bello had started finding its legs. The most recent episodes were some of the best drama on television. Another TV blog had comments, probably as snark, complaining about the hat Bello's character wears. UGH! Some people just don't deserve quality.
I was thinking that since NBC has several channels like USA they could simply move the series. However a post on Deadline Hollywood said that after the 13 episode is finished before the holidays that production would be shut down.
Cable channels don't pay the same money for series that Broadcast channels do but series have moved before. "Friday Night Lights" was turned into a joint production of Direct TV and NBC with the shows on Direct TV and then later shown on NBC. "Law & Order: Criminal Intent" spent six seasons on NBC before being moved to USA in a co-production deal. First run episodes appeared on USA first then later they would be shown on NBC, usually in the Summer.
NBC has given me another two reason to hate the network. *sigh*