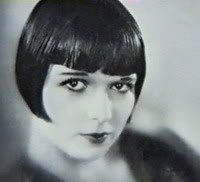 Today, November 14th is Louise Brook's birthday. Although her film career lasted only 5 years, her iconic bob haircut defined the 1920's flapper culture and influenced film making in the decades since her highpoint in 1929.

Louise Brooks appeared in 24 films between 1925 and 1938. She was also a gifted dancer as well as an accomplished writer. Before she entered films, Louise Brooks performed with both the Denishawn Dance Co. and Ziegfeld Follies. Later in life, her articles were collected into a bestselling book, "Lulu in Hollywood".

Today, Louise Brooks is best known for her role as Lulu in the classic 1929 German film, "Pandora's Box".

Nearly 70 years after her last films, Louise Brooks is remembered still for her independent spirit, remarkable beauty, and trademark hair style – qualities which have made her a 20th century icon.
I also did a one page tribute page on my Doug's Views site but the Louise Brooks Society website has far more info on the actress than my little page.