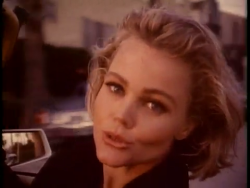 I was searching through Spotify the other night, following related artists to add more to my master play list, and I came across Belinda Carlisle. I fell in love again just like I did during her stint with the Go-Go's and her solo work at the end of the 1980's. I get that in the MTV world she was a star in part due to her looks but I loved the music. I decided to post my favorite video from Carlisle's solo work.

Belinda Carlisle – Mad About You (1986)
I love the Audrey Hepburn tone of the video and Belinda looks so yummy in every frame even with the extra long fake eyelashes – but that adds to the 50's/60's vibe. I also loved near the end when she is riding in the car singing to the camera as the car turns many tight circles right on a street in what I assume is Los Angeles.
Carlisle also had one of my all time favorite album covers. I had the album in vinyl just because of the cover. Again it has that Hepburn coquettish tone. I would "stare" at the cover for hours….