Poppy Montgomery is "Unforgettable"I'm going to be having me some Poppy this TV season. The new season starts next month and I took a look at some of the previews on the various network websites. Here is a listing of the new shows that I plan on checking out this season and a few may end up on my regular schedule. I posted clips where possible but you can always go to the website of the show to see a brief clip.

ABC
I think I'll try to watch all of "Last Man Standing" with Tim Allen. The preview was funny and Allen does have a good record on television.
I also plan on checking out "Charlie's Angels". What seems different is the Angels start out as bad guys given a second chance and the Bosley character is a young guy. Of course the stories are going to be important. Too many times networks seem to love concepts but don't focus on decent plots. Yes we all like eye candy but if the plots and stories suck no pretty face can help that.
Man up's preview was funny but not sure if it will last the season. I'll try it out. The scene where the wedding party follows the guys home to continue a fight gave me a chuckle.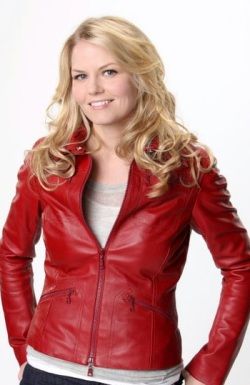 Jennifer Morrison in Once Upon a Time"Once Upon a Time" looks like an interesting take on classic fairytales. I do like that Ginnifer Goodwin and Jennifer Morrison star in it. NBC also has a fairytale show so it will be interesting which one or both survive.
"Pan-Am" is one of two shows that apes on the success of "Mad Men" with plots set in the 1960's. What interests me on this one is the preview seemed to show that this show might have the period down right – compared to the show on NBC. I'll at least check out an episode.
I also liked the preview for "Suburgatory" where a city family move to the suburbs. I think It's a comedy but really not sure. ABC says "A bitingly ironic single-camera comedy that combines Juno's heightened reality with Father Knows Best's heart." Still it looked interesting.
CBS
The show I really want to see this season is Poppy Montgomery in "Unforgettable". Montgomery plays a former police detective who can remember everything. There is also two sub stories that I would prefer were ditched – one is she is trying to solve the murder of her sister and the other sub story is she had a past with Detective Al Burns. Not sure how it will turn out but it reminds me of a dramatic version of "Monk" – quirky cop solving crimes. The best part for me is Poppy is a red head…. wow! I would watch the show just for that. Yes, I know I'm THAT shallow.
Another show I want to see is "Person of Interest" with Jim Caviezel and Michael Emerson. The show is a cross between the film "Minority Report" and the old TV show "The Equalizer". Emerson has built a computer system that generates a list of names who may either be bad guys or victims. Caviezel's character must find the person, discover what is going to happen, and prevent it from happening. I like the concept but not sure they can do it for more than a season before it gets stale. But I do want to see it.
On the comedy side the only ones that I might sample is "How to be a Gentleman" since I like Dave Foley. And "2 Broke Girls" might be good for a laugh or two.
NBC
"Free Agents" with Hank Azaria and Kathryn Hahn looks funny. Although one scene they are at work and talking about penises and sex which didn't seem appropriate. I like Azaria and it's nice to see Hahn get a lead spot in a show.
"Grimm" is the other modern retelling of fairytales this season. It's a police drama where David Giuntoli plays Det. Nick Burkhardt who is the next in a long line of Grimms who see real monsters and is the only one who can stop them. Like ABC's "Once Upon a Time" I like the premise and from the preview "Grimm" looks better story wise but we will see if either show sticks around. This is definitely different than the usual police drama.
Another NBC drama I want to see is "Prime Suspect" with Maria Bello. It's the US version of the UK hit that starred Dame Helen Mirren that I was a huge fan of. The main theme of the show is that Det. Jane Timoney is leading a boy's clubby unit of detectives who belittle and disrespect her. In the preview it looks like she takes risks and is described as being reckless and it even looks like she doesn't know how to drive. The UK version focused a hot beam on Jane's character including her private personal life. It will be interesting to see if the show does the classic UK version justice.
The last new NBC show I might be interested in is the other "Mad Men" rip-off "Playboy Club" about the classic men's club. It focuses on the Bunnies and their interactions with the male members of the club. It seemed to me, based on the preview, that "Pan-Am" on ABC seems to be the better period piece. I'll watch both and see which one really is better.
FOX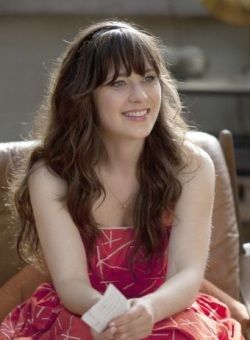 Zooey Deschanel is the attractive
dorky girl living with
three guys in FOX's "New Girl""New Girl" with Zooey Deschanel as an attractive dorky girl living with three guys looks interesting. Although the premise is way not logical, it does look like it should be funny. It is paired with my favorite "Rasing Hope" on Tuesday nights.
I'll try out "Terra Nova" since it includes Steven Spielberg and Brannon Braga as producers. On first glance the setting seems to be a gimmick and so I'm not sure if the underlying story will keep it on the air.
"Allen Gregory" is a new edition to FOX's Sunday night cartoon block. It's in the mold of "Family Guy" and "The Simpsons" with biting satire and quick one liners. Jonah Hill from "Superbad" is the voice of Allen.
One show that will probably be seen after X-Factor ends is the spin-off of "Bones" called "Finder" I love the characters and the premise. I'm a big fan of Saffron Burrows and am glad I'll be able to see her again on a regular TV show.
Again these are *MY* picks of the new season. Feel free to comment below either about my picks or something you like that I didn't mention.