"Nights in Rodanthe" is the third film to pair Richard Gere and Diane Lane after Unfaithful (2002) and The Cotton Club (1984). It is based on the novel by Nicholas Sparks.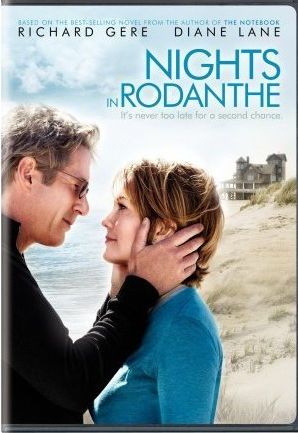 Lane plays Adrienne Willis, a woman who's marriage has fallen apart after her husband leaves her for a younger woman. Gere plays Dr. Paul Flanner, a surgeon whose life and practice crashes around him after a medical mistake with a patient. Both Willis and Flanner end up at a small end in the North Carolina coastal village of Rodanthe. Through the course of the film they fall in love and begin to heal their lives.
Just as they reach the point of staying together they realize they have to go back to their separate lives. The last bit of the film focuses on their continued communication through letters.
The film is a tear jerker supreme and just didn't have a satisfying ending for me. In fact I laughed out loud during the end scene not because I was happy but because it was stupid.
I admit I am not the demographic for this film but if you like formalistic romance novels then this film is for you.
Diane Lane is great as usual and Richard Gere is good too. The script is bumpy in parts. I read a plot summary of the book and it seemed better than the film version story wise. I also believe there is a serious editing mistake when Adrienne drives to the local market/bar in the village that should have been caught.
I hope Lane and Gere try to work together again but next time stick with a meatier drama like "Unfaithful" or maybe a straight up comedy.