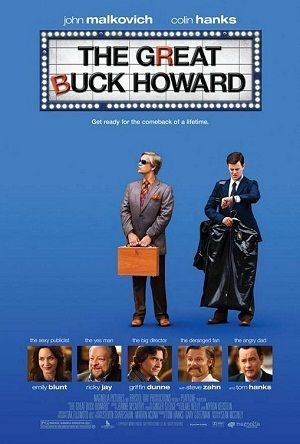 I had a chance to see the 2008 film "The Great Buck Howard". It stars Colin Hanks as the put upon road manager of a once famous celebrity mentalist Buck Howard played by the great John Malkovich. The theme of the movie seems to be if you find what makes you happy then screw everyone else. In the end I liked this movie more than I thought I would.
Troy Gable (Hanks) is a law school drop out looking for what he wants to do with his life. He is hired on as a road manager of mentalist Buck Howard who is past his prime. Howard wants to play Las Vegas again but for most of the film is stuck playing 2nd tier cities and towns like Bakersfield and Cincinnati. The good or bad part depending how you look at it, Howard doesn't come across as knowing his celebrity has left the station.
Emily Blunt has a role as Howard's PR flack and Gable's love interest. Tom Hanks has a bit part has Gable's father naturally.
Overall the film is predictable but I liked the small twist that helps Buck Howard get another shot at Las Vegas. The Hanks voice overs during the movie really weren't needed. Probably they thought people wouldn't "understand" the movie.
This is a nice film and I liked the message that if you find what makes you happy then screw everyone else.