One of the new shows I like is Gary Unmarried, a comedy, which stars Jay Mohr and Paula Marshall. They play a divorced couple with 2 kids trying to remain civil to each other for the sake of the kids.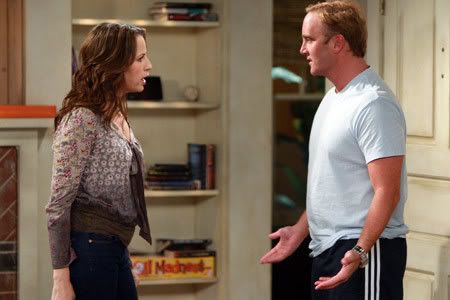 I like Jay Mohr and I've always had a crush on Paula Marshall. It's good the show is funny and I hope it is around a long time.
Paula Marshall is the Matthew Perry of sitcoms, having been on 6 different short lived sitcoms in 8 years. Hopefully this show is her "Friends". She is very talented.
Maureen Ryan of "The Watcher" at the Chicago Tribune didn't seem to care for it. She wrote:
Female fun-killers are all over the TV these days. There's "House's" Lisa Cuddy, otherwise known as Dr. No; Dani, Charlie Crews' dour partner on "Life"; Teresa Lisbon, the no-nonsense policewoman on "The Mentalist," a new CBS procedural.

I could go on, but you get the idea. It's irksome to see so many clichéd, negative female characters on the broadcast networks these days. And it does make you wonder if all the complex roles for women have migrated to cable (the way that cable shows cleaned up at Sunday's Emmy Awards should really be telling the broadcast networks something).

The controlling wife on "Gary Unmarried" isn't even a wife anymore; Allison Brooks (Paula Marshall) is divorced from Gary Brooks (Jay Mohr) but unable to fully let go. She's such a meddler that she's forcing her ex to continue attending counseling sessions and she demands that Gary follow rigid rules meant to ensure an ideal divorce.

Likable lug Gary, of course, violates these rules, just as he threatened to not "respect" the juice fast that Allison made their children endure. Most situations revolve around Gary's falling short of Allison's stringent standards, and his resulting dislike of females is, I guess, supposed to be funny.

It's doubtful you'll want to get hitched to 'Gary Unmarried'
Well it is funny. It is called a character. Gary is a doofus at times and that is funny. The kids are goofy and that is funny. Allison being a control freak is funny and probably one of the reasons the marriage didn't last. It is just a sitcom not a documentary.